Frequently Asked Questions
Q.

 Do I need to book?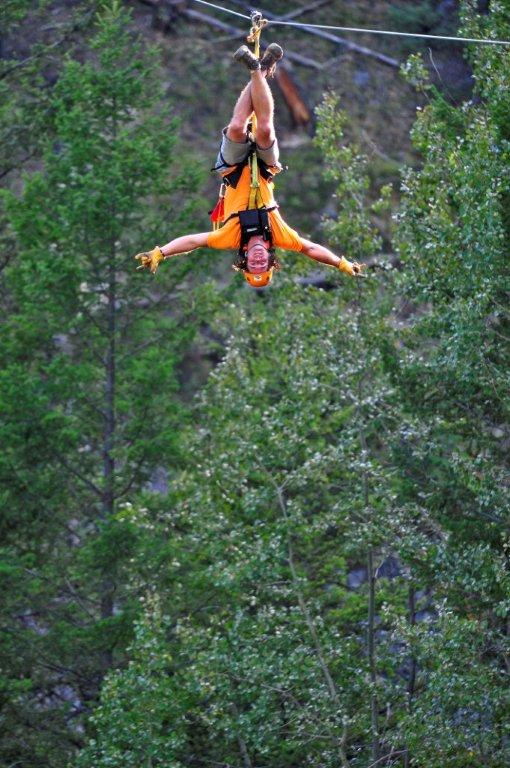 We advise you to reserve your tour in advance because we get VERY BUSY.  We welcome walk-in guests and always do our best to accommodate you, subject to capacity.
Please take advantage of our online reservation system or simply call our awesome guest services team. We'll here to help!
Q.

 What are the age restrictions?
Guest must be a minimum of 19 years old to zip without a guardian. All minors (19 years and under) require a guardian signature on their waiver. For our Little Zipppers, 4 years old is the youngest age we allow. 
Q. 

What are the weight restrictions?

For individual riders, the lower weight limit is 70lb, the upper weight limit 275 lbs.

For Little Zippers (70lbs and under), they ride in Tandem with a guide. We can take two Little Zippers per tour.
Q.

 What should I wear?
Guests are encouraged to wear suitable outdoor clothing, closed-toed footwear is required. Sorry, we don't have any rain gear available.
Q.
How long does it take?
Allow UP TO two and a half hours to do all six ziplines. You then have the option of spending as long as you like in our puzzlearium & picnic area. Most people will want to spend about an hour there.
Q.

 Do I have to sign a waiver?
Yes. All adventure activities have risks and you will be required to sign our Release of Liability Agreement. We take safety very seriously, but nothing, not even taking a shower, is ever truly risk free. To save time during check-in, please click here to download a copy of the waiver.
Q.

 What hazards might there be?
Hopefully none! But you are going to be in a wilderness environment. You may encounter some of the following conditions:
Uneven ground – Roots, rocks, uneven ground and branches may trip or scratch you while you are walking around, which is why we ask you to wear closed toed footwear and equip you with a helmet.
Trees and brush – Trees and tree limbs can fall without warning, and brush can scratch your face, eyes and skin.
Steep dropoffs – The canyon walls are near vertical, You must stay behind the safety fences and away from the edges at all times
Wildlife encounters – Bears, moose, deer, coyotes, wolves and cougars all live in and around the park. It's SO COOL to see the animals, but they can be unpredictable and potentially dangerous. Our guides are trained to be 'bear aware' and we have special procedures in place should you encounter an animal to protect you.
Heat or cold exposure – You'll be having so much fun; you may not realize you're getting too cold or too hot. We recommend appropriate clothing, sunscreen and plenty of liquids to keep you healthy. We provide complimentary water and cups for you at three seperate places on our course
Accidents – The safety protocols we have in place are second to none, and it extremely unlikely that you will ever come to harm while using our equipment, however we cannot categorically state that accidents will never occur.
Q.

 When the best time to fly?
There's no bad time to fly, but in the summer we encourage guests to book the earliest time possible because it gets hot in the Okanagan, and you'll appreciate the cool morning air. By the time the sun gets up, you'll have the rest of the day to lounge of the beach or enjoy the many other facilities Peachland has to offer.
Don't fret if the slot you wanted is already booked, even in the height of summer our park is a few degrees cooler than the beach. We're in the mountains just 6km from Peachland and the ziplines cross over the beautiful Deep Creek, so it's always a little cooler.
Q.

 What if I get scared?
Well, to be honest, you might. That's kind of the fun of it! But we'll never ask a guest to do something that they don't want to do.
Our guides will give you lots of confidence and encouragement but, if you arrive and feel the experience is too much for you , then we will refund your money. 
The tour starts with training and getting you harnessed up, before going to the first zip line. We won't ask you to zip if you really don't want to, but please understand that by that point we are unable to offer you a refund as the tour has already started.
Q.

 What is your Cancellation Policy?
We require a minimum of 48 hours notice of cancellation, otherwise we have to charge you the full amount of the tour. We do understand that things can happen that affect your plans, but we're sorry, we have to be firm on this policy. Similarly, if you are late for your tour, and miss the start time, the tour will proceed without you, and you will not receive a refund. So, please, be on time. 
We hate giving bad news to guests, but we have a limited number of flight times, so once you've booked that time we cannot sell it to someone else.
If we have to cancel or abandon the tour for any reason (for example in the case of dangerous weather conditions) we will either refund all or part of your fee, or give you a "rain check" pass to come back and enjoy the park at another time.
For example; if you've completed four of the six lines, we would refund you 1/3rd of your fee or give you a rain check that lets you come back and complete your tour, whichever is your preference.
Q.

 What if it's raining?
Tours run rain or shine and the weather is one of the fun unknowns of your tour and we have raingear for you to borrow if you need it. In fact, Ziplining in the rain can be an even better experience because the rain lubricates the lines and you get to fly even faster!
ZIPZONE SAFETY RULES
We take safety very seriously and our guides will take great care of you while you concentrate on having fun. All you need to do is follow a few common sense rules.
You must follow the guides instructions at all times
Kids must be at least four years old
Kids must be supervised by a guardian
Long hair must be tied back and secured
Health Rules
You must weigh between 32kg to 125kg (70 lbs to 275lbs)
You must fit into the harnesses comfortably (Max waist size 48", Max thigh size 26")
You need to be in good health and not subject to dizziness, motion sickness or extreme fear of heights
You must be free from high blood pressure, heart, back or neck problems
You must not be pregnant (The harness goes around the waist)
You cannot be under the influence of alcohol or drugs
Clothing & Accessories
Put on a great big smile and carry a sense of fun!
Wear supportive athletic or hiking foot wear (no flip flops, raised soles, etc)
Wear suitable clothing (Ladies, unless you want to flash the audience, wear pants and a supportive bra!)
Bags, purses or backpacks can't be taken on the ziplines
Secure loose items (keys, change, etc) in a pocket that seals
Small cameras are OK, as long as you can secure them in a pocket and on a strap
Professional camera equipment is allowed with prior permission only
Small containers are provided to store small personal belongings